Update 01/2023
In the January 2023 update, we are making various improvements addressing your feedback. 🤗
Among other things, the following points were integrated:
Keyword details incl. Google SERP
Fair billing of the individual queries
Usability and performance improvements for the individual tools
See the detailed changes here:
Keyword Details + Google SERP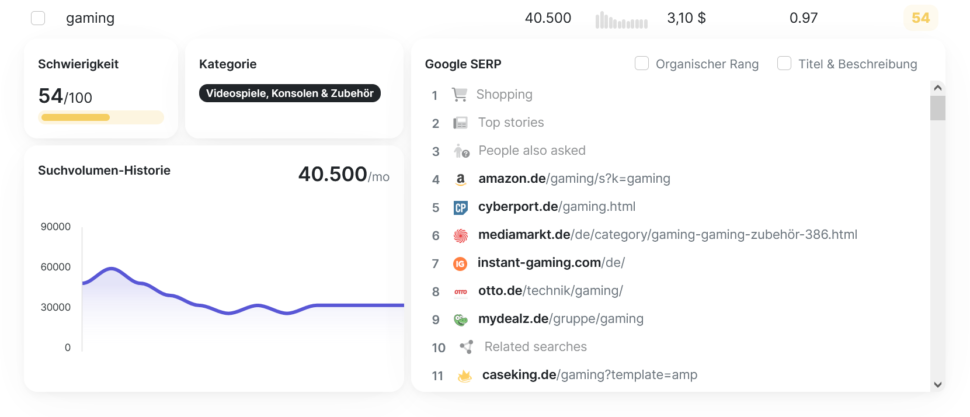 The new Keyword details feature is now live 🎉 By clicking on a keyword in a results list, you can now see more details about the keyword. These include:
Difficulty
The keyword difficulty is calculated on a scale from 0 to 100. The higher the value, the more difficult it is to rank organically for the corresponding keyword.
Categories
The categories of the respective keyword.
Historic search volume
The history of search volumes of the last 12 months. We plan to extend the search volume history to several years in a future update. This is great for identifying seasonal fluctuations, for example.
Google SERP
The current Google SERP for the country and language of the keyword, including the rankings of advanced SERP content such as Shopping, Top Stories, People Also Asked, etc. You can hide this content to see only the organic ranking. Additionally, you can also view the titles and descriptions of the search results.
Credit billing
In the previous credit model, each individual credit corresponded to a single query of any tool. However, this resulted in various scenarios that led to unfair calculation. For example:
Query of keywords in the Metrics Tool:
Here it didn't matter whether you queried a single keyword or 500 keywords at the same time. One credit was always removed from your balance.
Keyword clustering:
Also with clustering, it didn't matter if you clustered 20 or 2,000 keywords. You where charged one credit either way.
We have therefore decided to calculate your credits more granularly. This means that it now matters what tools you use and how you use them.
To implement this change, we have multiplied your existing credits by a factor of 100 and applied the following credit calculation for each tool:
Suggest: 100 credits / search
Also Asked: 100 credits / search
Ranked Keywords: 50 credits / search
Metrics: 10 credits + 1 credit per 10 keywords in the request
WH-Questions: 20 credits x number of wh-prefixes (what, why, where, …)
Clustering: 50 credits + 1 credits per 10 keywords in the request
SERP: 2 credits / SERP
This benefits many of our users compared to the previous calculation.
Improved performance
We are always working on the performance of our tool and thus have good news for you here as well. 🥳
Especially due to the large number of results, older devices sometimes experienced performance drops. We have now implemented an infinite scroll technique, which does not have to render all results at once, but only shows more results when you scroll to the end of the current results list. This should make the tool performant and smooth to use even on older devices. 🚀
We are always very thrilled to show you our improvements. If you have any suggestions or feedback, please send us a short email. We are looking forward to any input, which we will then gladly develop and implement. 🤗
Sebastian Kraus
Sebastian is the founder of HyperSuggest with experience in building projects and developing innovative solutions based in Würzburg, Germany.