A keyword cluster refers to a group of keywords with semantic context. Keyword clustering describes the technique of dividing a large list of keywords into smaller, more specific keyword clusters.
In online marketing, it is essential to fill your website or online store with topic-relevant content. On the one hand, you offer your visitors valuable content on specific topics. On the other hand, search engines like Google and Bing can collect and evaluate this content. This increases the chances that your website will be displayed in the search engine results.
Keyword Research
But how do you get new and suitable content for your own website? By conducting keyword research. In some cases, keyword tools yield over 1,000 new topic-relevant terms for a defined keyword.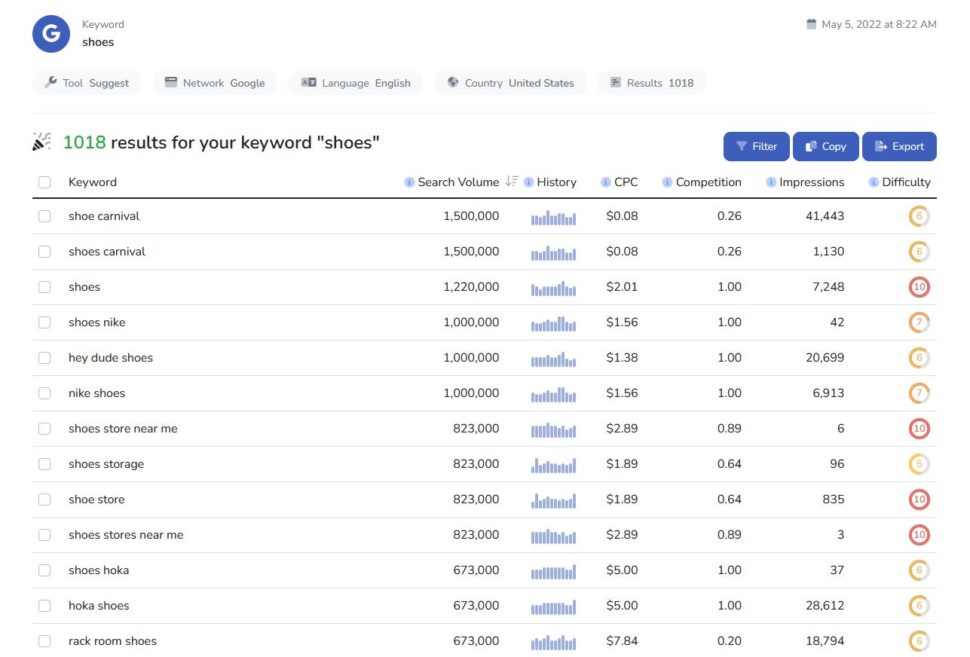 Now you could be happy that our tool has output so many keywords. But it is precisely this abundance of keywords that is problematic in content creation. How can you separate the many sub-topics in the keyword list from each other?
Keyword Clustering
This is where keyword clustering comes into play. You can use it to transform the sometimes very large lists from the keyword research into smaller, topic-relevant lists.
Let's look at an example:
If you now imagine that you can structure a list with over 1,000 keywords in this way, you can easily see how enormously helpful keyword clustering is in everyday SEO.
Now you probably want to know, how you can cluster your keyword lists to get meaningful keyword groups. For this you can use the keyword clustering tool from HyperSuggest. How it works and how you can use the results will be explained in the next section.
HyperSuggest Keyword Clustering Tool
Our clustering tool uses the current standard of machine learning algorithms to derive the relevant keyword clusters from a given list of keywords. For this purpose we use Google's Language Model BERT to understand and extract the interrelationships of the individual keywords. How the clustering works internally is very complex and a detailed explanation would go beyond the scope of this article. However, we would like to show you how to use the tool.
You can find the clustering tool in your dashboard under Tools.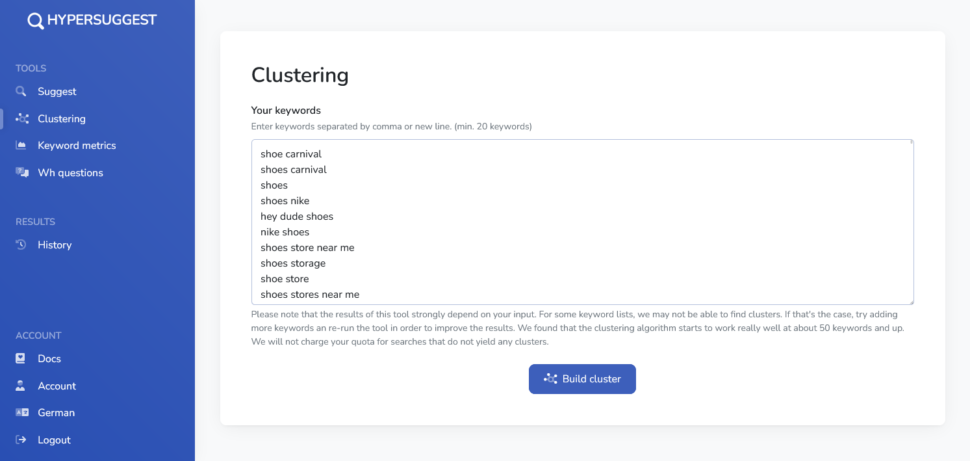 Now simply copy your keyword list into the form. You can use the following keyword lists:
Comma- or line-separated lists
Upper or lower case keywords
Keywords from different languages
min. 20 keywords
After you have copied your list into the tool, you can submit the form. Depending on the length of your keyword list, it can take up to 1 minute until the clustering process is completed. After that you will be redirected to the result.
You can display the result of the cluster analysis as a grid or table.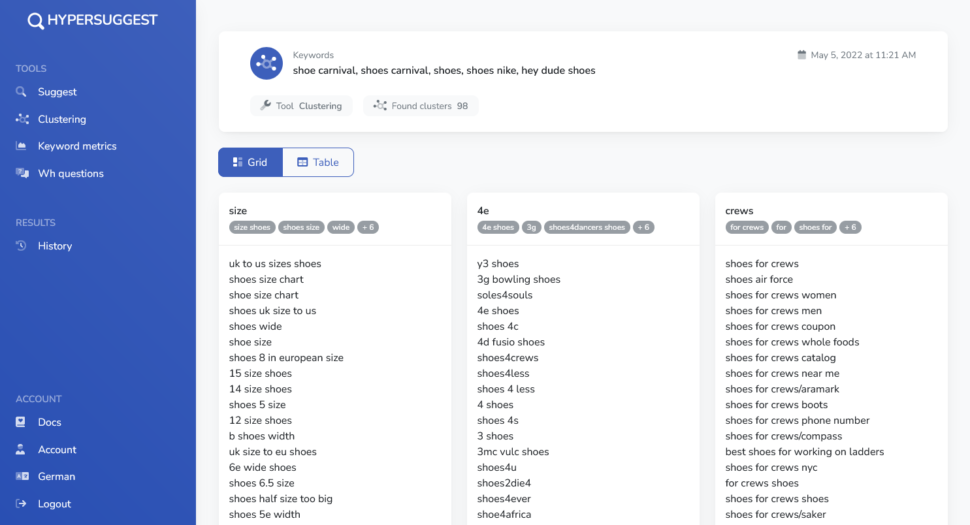 The grid view is actually very good for getting an overview of the different topics. We sort the results by the size of the clusters in descending order (the more keywords in a cluster, the higher the cluster is displayed).
The tabular view, on the other hand, is great for further processing the clusters. For example, you can copy them into Excel or Google Sheets to refine them further.
In both views, the found topic is displayed for each keyword group, as well as other matching topic suggestions. This is especially helpful for structuring your website. You can see exactly which topics would be suitable as content.
Conclusion
As you've probably realized, the HyperSuggest clustering tool is a real asset to your SEO toolbox.
We have summarized all your advantages here: