In online marketing, it's beneficial to make the best of your financial resources and mental capacity. For example, you should plan the content of your website so that it has the greatest benefit and impact on achieving your goals. Contributions and articles are best written in such a way that they interest your target group and are also demanded by them. To do this, however, you first need to know which keywords are in demand by search engines and how often, and how seasonal fluctuations develop throughout the year.
This is where our Keyword Metrics Tools come into play. You get the most important key figures summarized in a table for each keyword you enter. Important for you: The key figures always refer to the country and the language with which you start the analysis.
Key metrics:
Search volume
Historic data
Cost per Click (CPC)
Competition
Estimated impressions
Difficulty
These metrics serve as a good basis for your content planning. In addition, we recommend utilizing keyword cluster analysis, with the help of which you can form sublists in addition to the keywords.
HyperSuggest Keyword Metrics Tool
To make checking keyword metrics as easy as possible for you, we have built a dedicated tool for this purpose.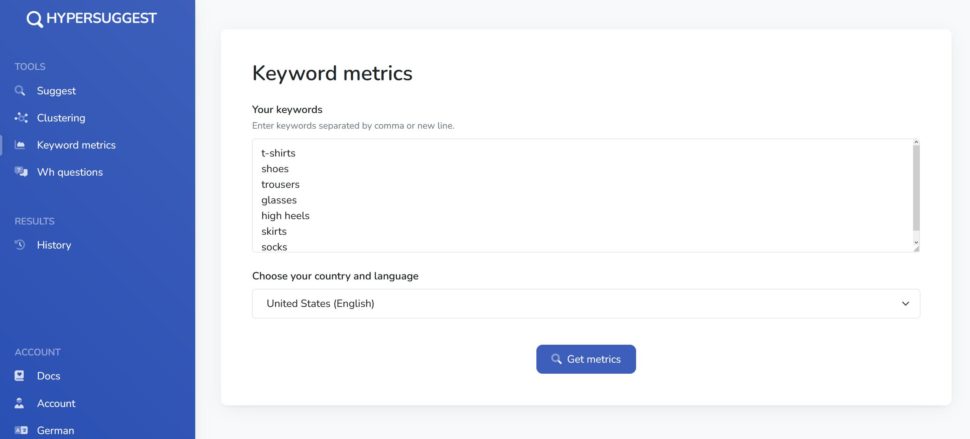 We only need these data from you:
Your keywords
Here you simply add your keywords. Either as a comma separated list or separated with a blank line. You can submit a maximum of 500 keywords per search.
A country and language
Here you can select your desired language and country for which we should display the metrics.
After filling out and submitting the form, we'll retrieve the metrics for you. This may take a few seconds depending on the size of your list.
The results
After the tool has fetched the metrics, you will be redirected to the Keyword Metrics analysis result.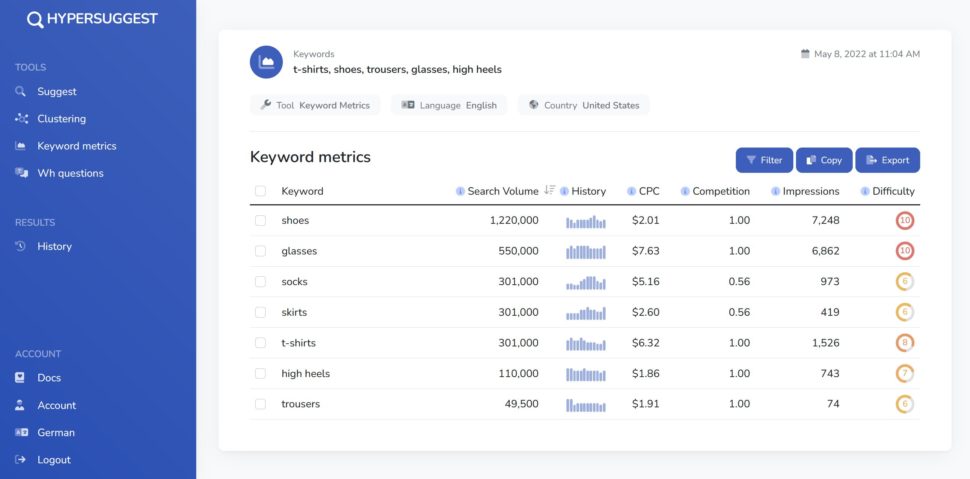 In the upper part of the result you can see the most important data you entered during the analysis:
Keywords entered
Tool used (Keyword Metrics)
Language
Country
Date of query
If you look at this analysis again 1-2 days or weeks later, you have all the important information in one place to keep track of your analyses.
The keyword metrics
Now we come to the important data of the keywords – the metrics. In the screenshot below you can see the results table of your keyword metrics. The table is sorted by search volume by default. However, you can sort the table by another metric. You can also sort by CPC or impressions (this makes sense for larger lists, for example).