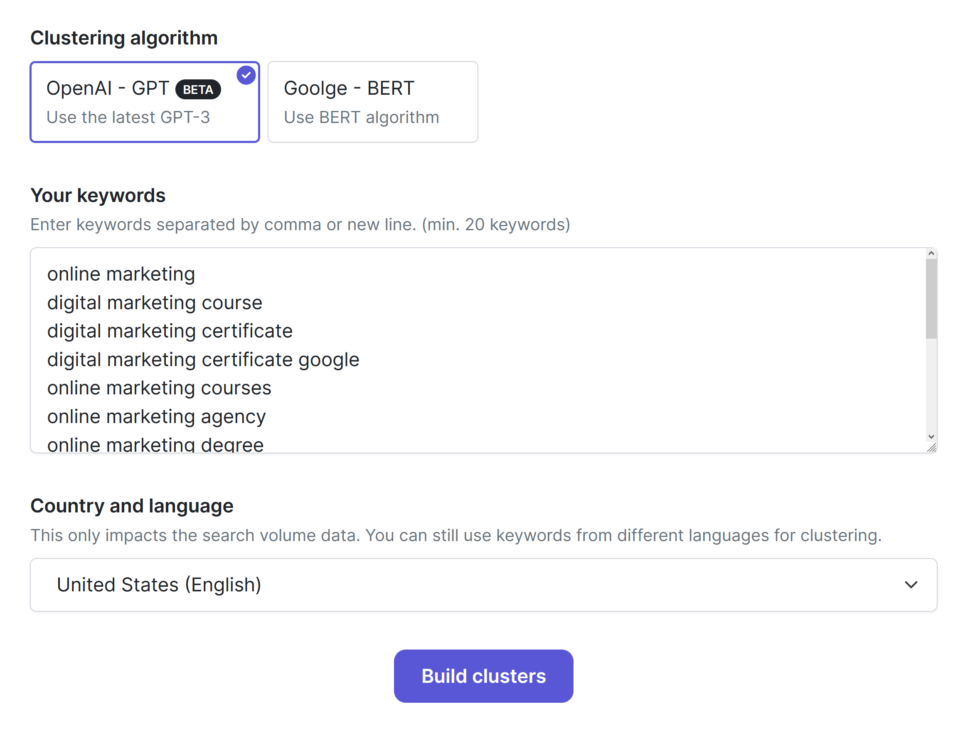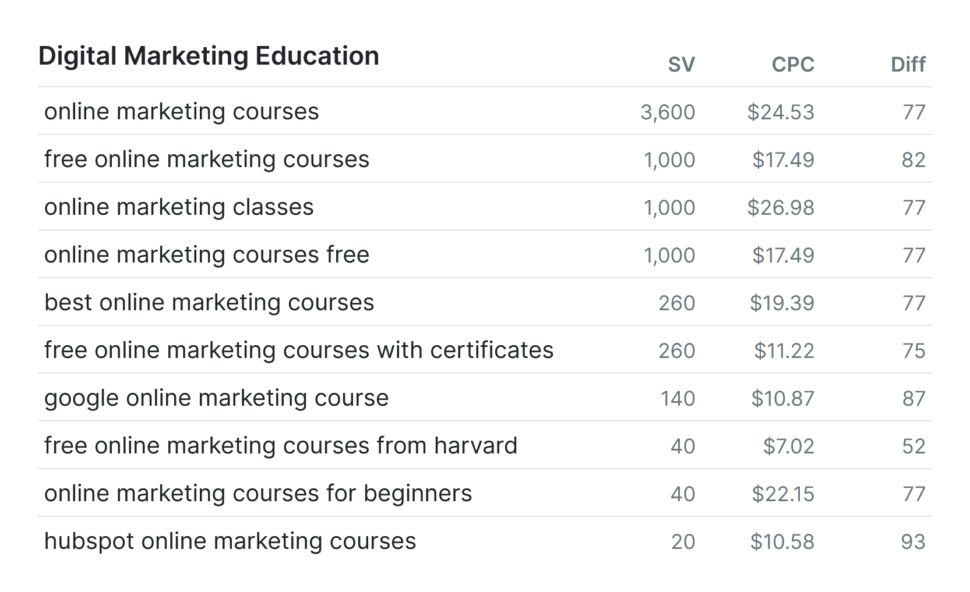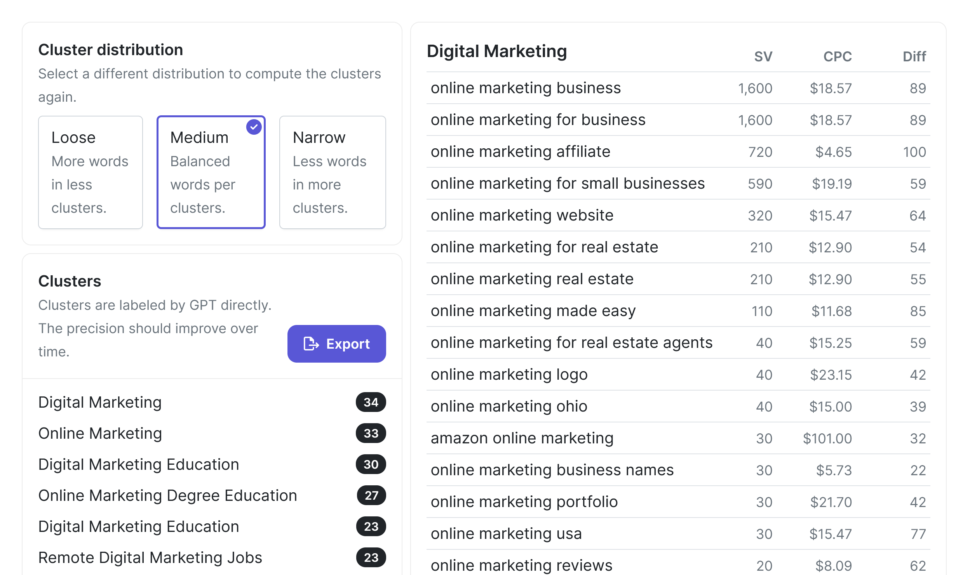 Discover the Benefits!
Keyword Clustering with
ChatGPT
Keyword clustering is a powerful technique that allows you to group related keywords together and create more targeted, high-quality content that resonates with your audience.
Enhanced Keyword Targeting
Improved Content Organization
Discover the Benefits of Keyword Clustering
Here's Why
You

Need It Now!

Overall, keyword clustering is a valuable tool for any marketer or SEO specialist who wants to improve their website's search engine visibility and attract more relevant traffic to their site.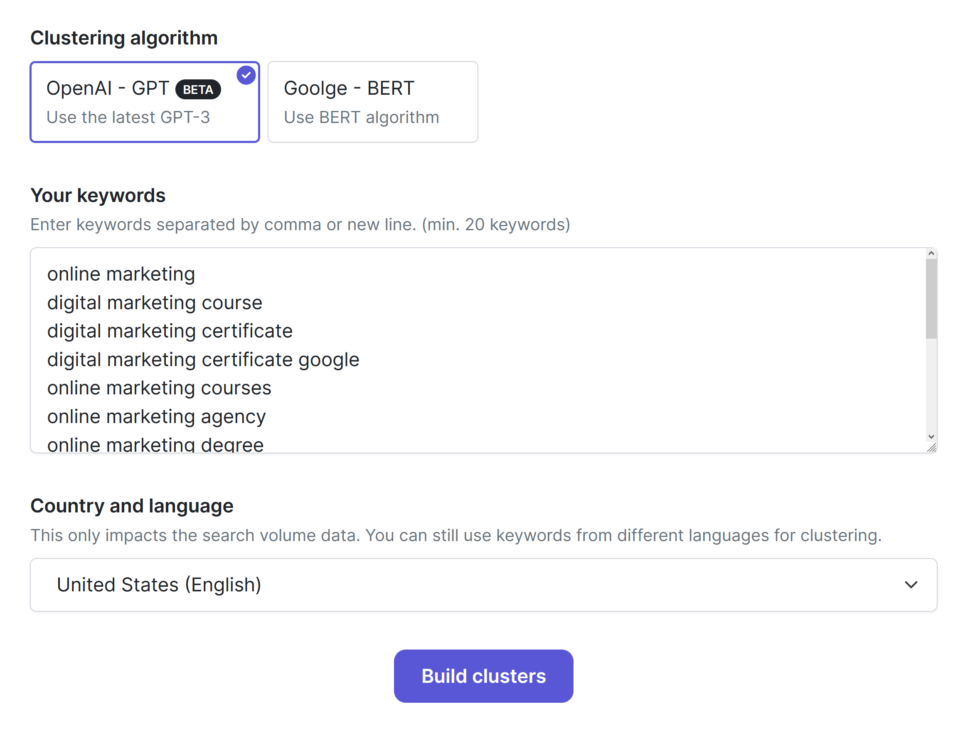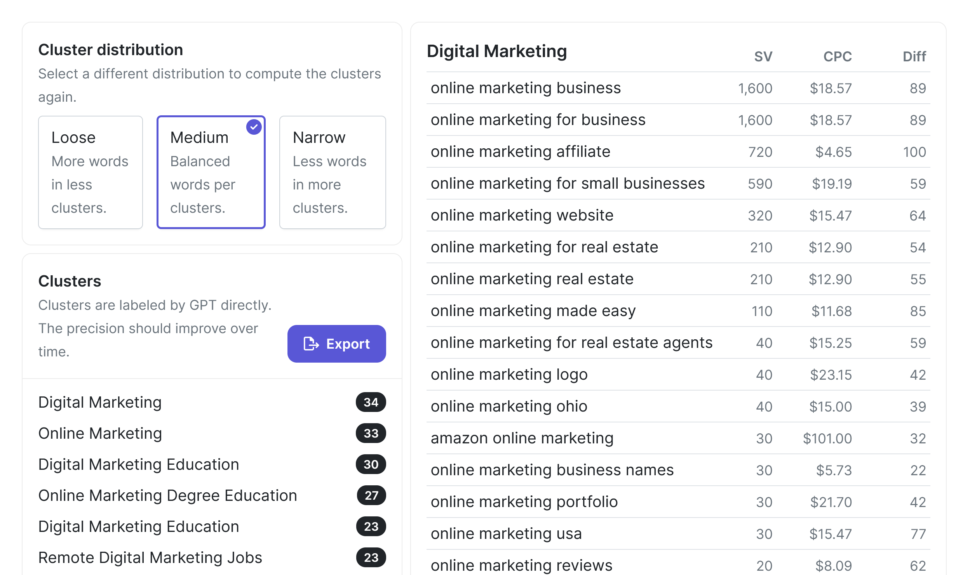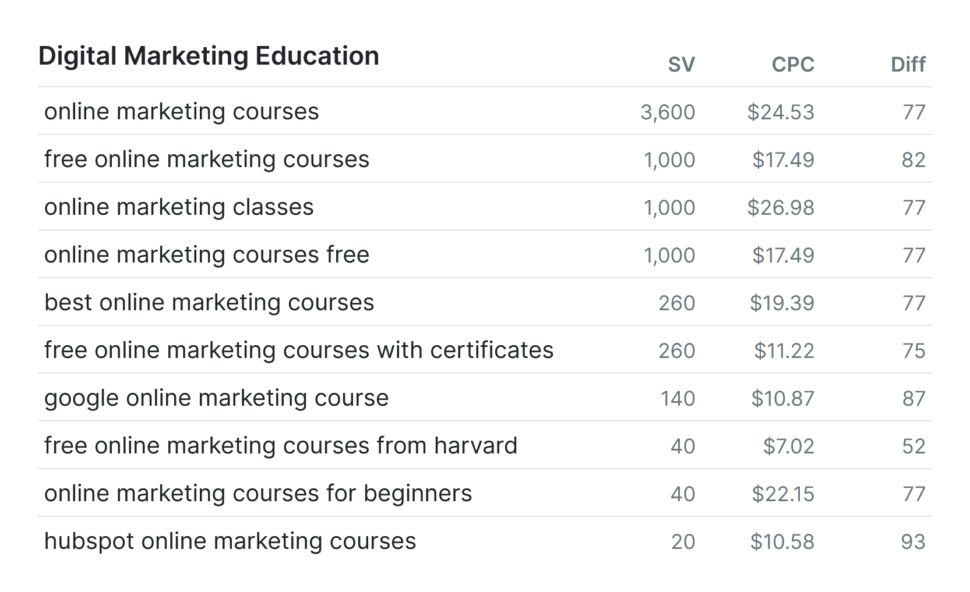 Revolutionize Your SEO Strategy with Keyword Clustering
Unlock the Power of
Keyword Clustering
Enhanced Keyword Targeting
Keyword clustering helps to group similar keywords and phrases together, allowing you to target multiple related search terms with a single page or piece of content. This improves the relevance of your website's content for specific search queries, increasing your chances of appearing in search results and attracting more relevant traffic.
Improved Content Organization
By clustering keywords and grouping them into related themes, you can organize your website's content more effectively. This helps visitors to navigate your site more easily and find the information they're looking for, which can lead to improved engagement and conversion rates.
Better User Experience
Keyword clustering can help you to identify gaps in your website's content and create new pages or resources to fill those gaps. This enhances the user experience by providing visitors with more relevant and valuable information, which can improve engagement and encourage repeat visits.
Increased Search Engine Visibility
When you cluster keywords and create content around specific themes, you can improve your website's overall authority and relevance for those topics. This can lead to better search engine visibility and higher rankings for related search terms, driving more organic traffic to your site and improving your online visibility.
Unlock the Power of Keyword Clustering
3 Target Audiences Who Need to Use It Now!
E-commerce Businesses
E-commerce businesses can benefit from keyword clustering by creating targeted product pages and category pages that rank well for multiple search terms. By grouping related keywords together, e-commerce businesses can optimize their website's content for specific topics and improve their search engine rankings. This can lead to increased traffic and sales over time, as more people discover their products and services through organic search.
SEO Specialists
SEO specialists should use keyword clustering to improve their website's search engine visibility and increase organic traffic. By grouping related keywords together, SEO specialists can create targeted pages and resources that rank well for multiple search terms. This can help to improve the website's overall authority and relevance for specific topics, which can lead to higher search engine rankings and increased traffic over time.
Content Marketers
Content marketers can benefit greatly from using keyword clustering as it allows them to create more focused, targeted content that resonates with their audience. By grouping related keywords together, content marketers can identify gaps in their content and create more comprehensive resources that address the needs of their target audience. This can help to improve engagement rates and increase conversions over time.
Don't Take Our Word For It
Take Our Reviews' Word!
"I've been using HyperSuggest since 2018 and for me it's one of the most reliable tools in the German-speaking market. It supports me in keyword research for SEO, content marketing and Google Ads. It is also very popular in my workshops and lectures at universities and colleges in Austria. Absolutely recommended and definitely a price-performance winner with very good support!"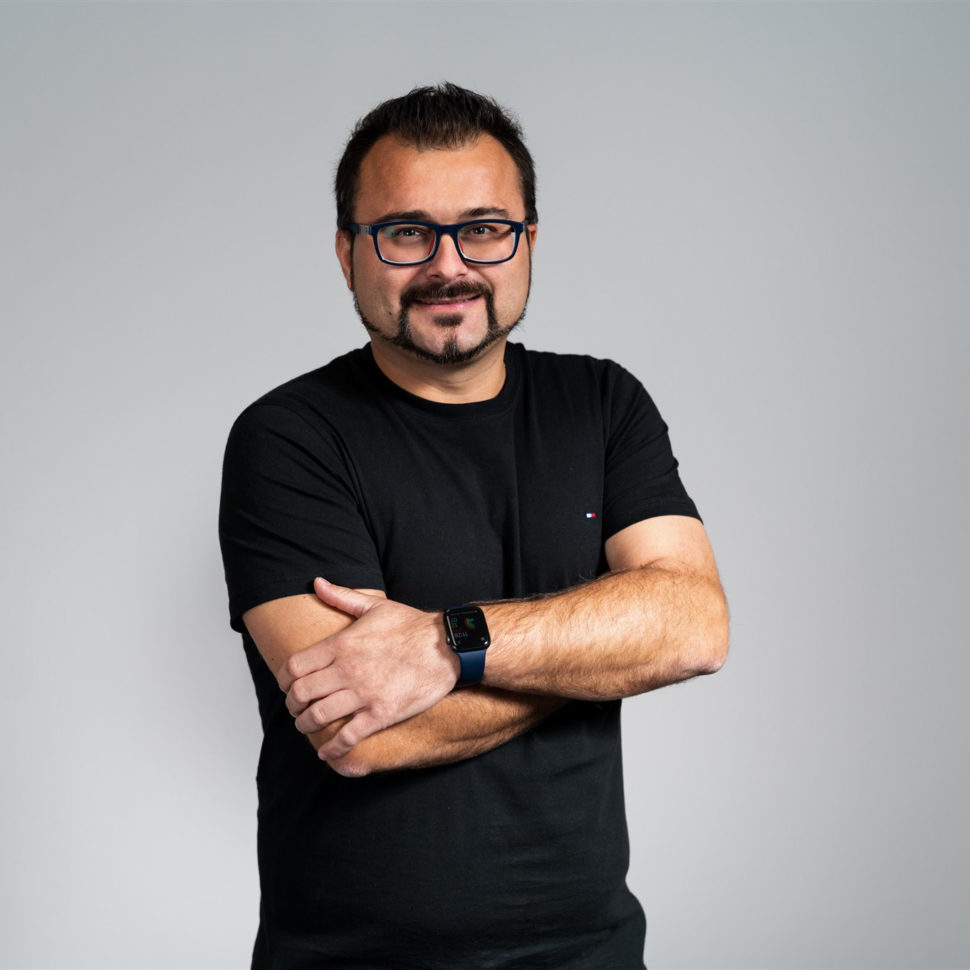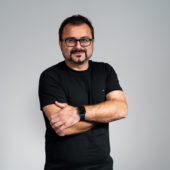 Florian Hieß
Digital Wings Online Marketing
"Originally started as a simple suggest tool, where you could donate beer to Sebastian to say thank you, it has now become a "Swiss army knife of keyword research" for SEO experts. HyperSuggest offers a variety of keyword inspirations (suggestions, wh-questions, also-asked) including search volume and the possibility of clustering for a fair price. I love it!"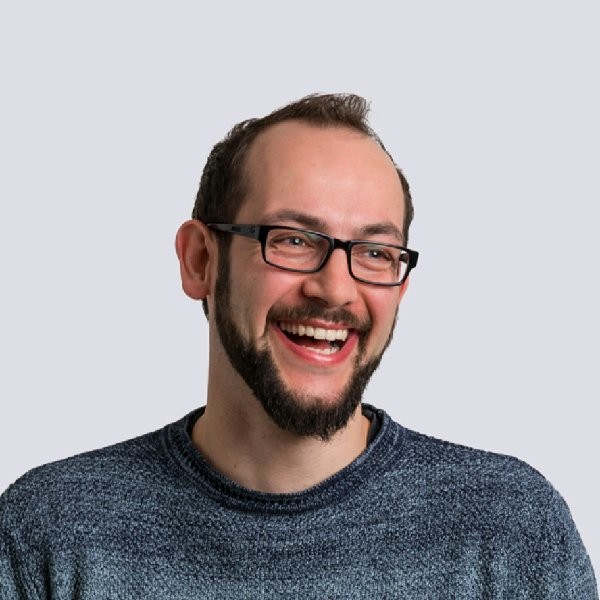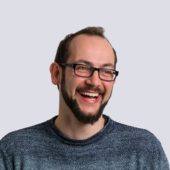 Darius Erdt
dariuserdt.de
"HyperSuggest lässt sich einfach bedienen, arbeitet schnell und ist für uns mittlerweile ein fester Bestandteil der Content-Recherche. Mit den Ergebnissen haben wir eine valide Basis, um Themen einzugrenzen und zielführend Texte zu erstellen. Und der Support ist top!"


Oliver Schroer
squadt GmbH
"We have been using Hypersuggest for several years. The tool reliably supports us in keyword research as well as in finding ideas for new content. I really like the new "Ranked Keywords" feature, which now allows us to see the rankings of the competition."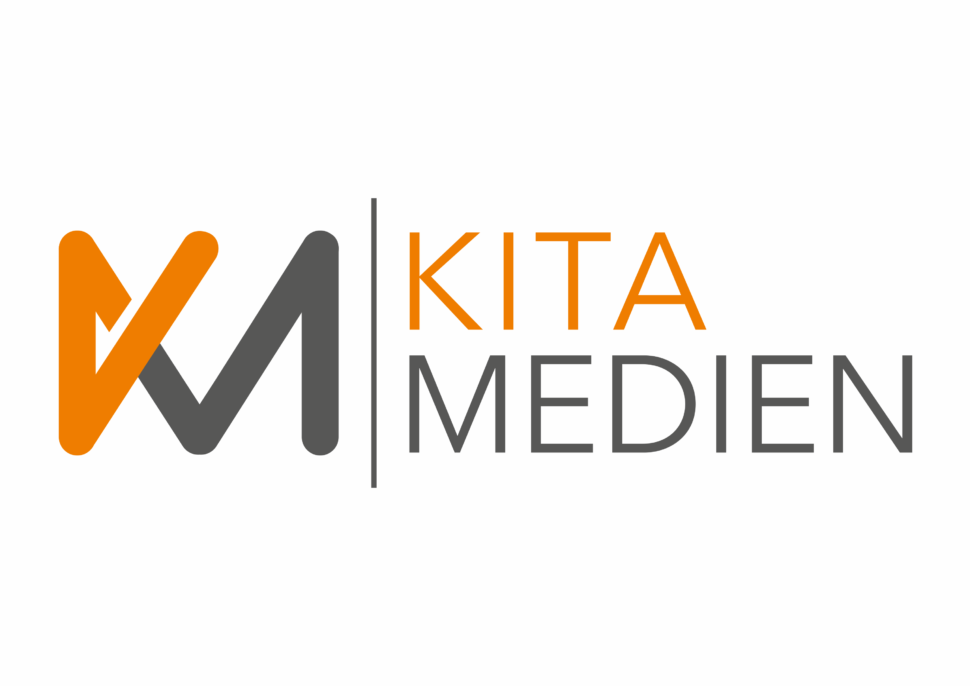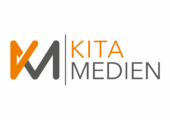 Jimi Brongers
Kita Medien GmbH
"I have been using Hypersuggest regularly for years to fill in possible gaps in my keyword analyses: In my opinion, nowhere else do you get so many keyword variations and longtails. Especially in combination with the included search volume, the tool offers valuable, fast analysis options."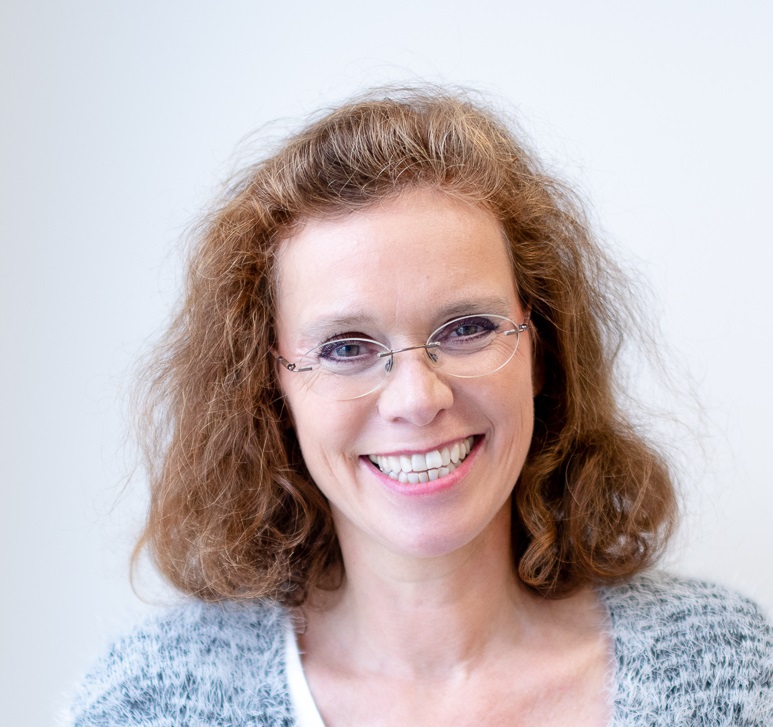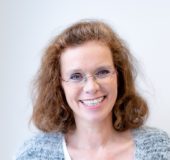 Stefanie Engel
WebHonesty Webagentur
"We have been using Hypersuggest successfully for many years. The tool is uncomplicated and absolutely precise. We wouldn't want to miss it from our daily seo and marketing routine. In addition, top support, even on the weekend, if it is necessary."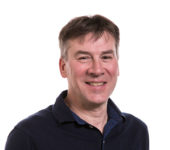 Klaus Müller
PureNature Products GmbH
"For me HyperSuggest is a really valuable tool for keyword research. The price is fair and the functionality is very good for this purpose."

Soeren Eisenschmidt
eisy.eu
"In a short time, I have already integrated the Hypersuggest tool into my workflow for creating briefings. Thanks to fast queries and functional CSV export, this tool is a natural choice."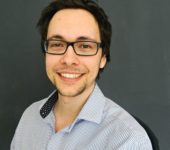 "I myself now use HyperSuggest for every keyword research, every content marketing campaign and for the creation of all texts, no matter if SEO text, guide content or blog post."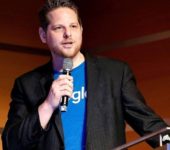 Kai Spriestersbach
SEARCHONE
"HyperSuggest is my tool of choice when it comes to keyword research – especially because not only Google but every important search system is covered (partly including information on click prices and search volume!). What also impressed me is the speed at which the tool delivers the results."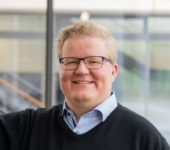 Konrad Hagelstein
KH Marketing
Got Questions?
We've Got Answers
Why does HyperSuggest deliver more results than other keyword tools?
We have developed a special query method where we also get the words of a search phrase that precede your keyword. As a result, we get well twice as many results as comparable keyword tools.
What is HyperSuggest?
HyperSuggest is a keyword research tool that provides users with thousands of relevant keywords and ideas from nine different networks, including Google, Amazon, YouTube, and Instagram. It offers information on search volume, competition, CPC, and trending topics to help users find highly-converting, low-competition keywords for their content and web pages.
How up to date are the results?
The keyword data is regenerated for each request. So you always get the current status. You can also view and compare your previous searches via the toolbox.
How does HyperSuggest work?
HyperSuggest works by leveraging data from various sources to generate relevant keyword ideas. Users can enter a keyword and the tool will search across multiple networks to find related terms and phrases. The tool also provides valuable insights into trending topics and seasonal fluctuations, allowing users to optimize their content for maximum impact.
How long does my subscription last?
You can decide to be billed either monthly or annually. In either case, you can cancel your subscription at any time and you will be able to continue to use the tool until the end of your current billing cycle.
Can I export the keywords from HyperSuggest?
Yes, HyperSuggest allows users to export their keyword data in various formats, including Excel, XML, CSV, JSON, and SQL.
Is HyperSuggest suitable for all languages and countries?
Yes, HyperSuggest supports virtually every language and country, making it a versatile tool for businesses and marketers worldwide.
What networks does HyperSuggest search for keywords?
HyperSuggest searches across nine different networks, including Google, Google Images, Amazon, eBay, YouTube, Pinterest, Instagram, Google News, and Google Shopping.
Can I use HyperSuggest for my e-commerce business?
Yes, HyperSuggest is an excellent tool for e-commerce businesses. Its Product Search module allows users to find the products and product variations that their target audience is searching for on Amazon, eBay, and Google Shopping. This helps businesses optimize their product listings and stay ahead of the competition.
Does HyperSuggest offer any support or training?
Yes, HyperSuggest offers a range of support and training resources, including a knowledge base, video tutorials, and a customer support team that can be contacted via email. The tool is very user-friendly, so even beginners can get started quickly.
says about HyperSuggest:
"As you can see […], Answerthepublic delivers quite constant, but less than half of the results. This is a clear result, especially if you consider that Answerthepublic searches more data […]. So the winner is clearly Hypersuggest."
Start your keyword research
today
.
You can change your package at any time.
You can change your package at any time.
You are good to go in 2 minutes, tops.
You are good to go in 2 minutes, tops.
We are here to support you after your purchase.
We are here to support you after your purchase.
Trial
Explore all features for FREE
Get 500 credits / day for 7 days for FREE. That means you can spend 3,500 Credits to try every feature of HyperSuggest.
Enterprice
Need more than 100K credits?
With the ability to handle more than 100,000 credits, our custom-made enterprise plan is designed to meet the unique needs of your business.