Update: September 2022
We are very happy to present you the new update for HyperSuggest. It is now even easier for you to discover exciting and new keywords for your project. So let's take a closer look at the new features.
New: Also Asked Tool
The Also Asked Tool finds questions for your individual keyword that Google displays in the SERPs under "People also asked". The advantage of these questions is primarily that they are structured hierarchically and semantically dependent. As an example, we have asked you the keyword "insurance marketer" via the new tool. Here you can see the result:
As you can see, the tool extracts impressive questions around the topic "insurance marketer". Use these insights and create answers to the questions found on your website. This way you become relevant for the questioners and for Google.
New: Credits
Over the last few months, we've been giving a lot of thought to how we can make billing via our tool even fairer for our customers. The result is a global credit system to easily access all booked tools.
For you this means:
You have no more restrictions regarding suggest networks (you may now use all networks)
There are no tool specific usage restrictions.
There is one credit pool for all tools
New: Google Ads Modificator
When you copy your result keywords, you can now also set a Google Ads modifier. This is especially useful if you want to copy your results directly from HyperSuggest to your Google Ads campaigns.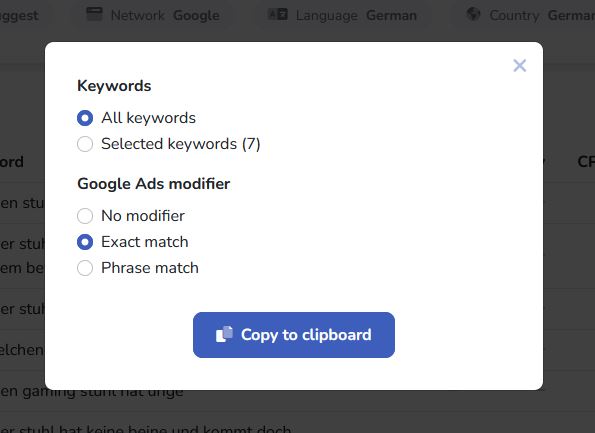 Improvement: UI
We've made countless new improvements to the UI to make it even easier for you to navigate through the tool and find exactly what you need for keyword research.
Among other things, we have improved the following points:
Your history now gives you an overview of all important metrics of your query
You can now start a new query directly from your results view
Your account page has been completely redesigned
The new header takes you directly to the account page and shows you the currently available credits
Update summary
We have actually tried very hard to bring out the best for you as our customer. If you have any feedback or suggestions for improvement, feel free to send us an email directly to [email protected] – we take your feedback very seriously and try to implement what we can.